What is a Caravan mover?
A caravan mover, sometimes called a motor mover, is a system consisting of two or four electric motors driving rollers that are engaged against the caravan tyres in order to move the caravan forwards, backwards, turn and even rotate on its axis, all functioning from a remote control. The motors are powered by your caravan leisure battery and are engaged when you need to manoeuvre the caravan and disengaged when you are towing.
Are there different caravan movers for single and twin axle caravans?
Yes, caravan movers for single axle caravans have one unit consisting of 2 motors and for twin axle caravans the motor mover has 2 units with 4 motors so that the mover is 4 wheel drive.
What about four wheel drive?
For the ultimate in power, control and manoeuvrability four wheel drive (4WD) models are the best choice for twin axle vans. Of course with four motors instead of two they are also more expensive.
What is cross actuation?
Cross actuation is the ability to engage both sides of the mover agamotroinst the tyres from one side of the caravan. This is particularly useful when you need to park the caravan up close against a wall. Without cross actuation you must engage or disengage each drive roller independently.
What is electric actuation?
Some caravan movers are able to electronically engage and disengage the drive rollers at the touch of a button rather than manually engaging them. This means that you can control the whole process from the remote. Some models can be upgraded to electric actuation.
Can the caravan mover be controlled with precision?
Yes, all caravan movers have incorporated a "soft start" and "soft stop" feature. This gently accelerates the motor eliminating any nasty jolts. This aids positioning as you have millimetre control and is kinder to your caravan and its tyres.
What kind of guarantee do you give?
All caravan movers fit onto caravans with or without shock absorbers.
What about stopping on hills?
All of our motor movers draw a significant amount of power from the leisure battery, so we would always recommend upgrading the battery to a 110Ah battery for your peace of mind. Minimum requirement is an 85ah battery and 110ah for twin axle caravan movers.
Where do I need to take the caravan to have the caravan mover fitted?
We come to the caravan to fit wether at your home, work or storage area we provide an onsite service.
How long will it take to have the caravan mover delivered?
Approximately two to three days, although if you need the unit sooner we would be able to do this with an extra cost to get the unit to you by the time you need it.
Is a caravan mover hard to fit?
Most caravan movers can be installed by any competent mechanically minded DIYer. But if you are unsure, we can provide a full fitting service at your home, work or storage area.
How easy is it to transfer the caravan mover on to the next caravan I buy?
A caravan motor mover unit takes approximately 3 hours to fit and units can be easily moved from one caravan to another. Although you can not move a single axle mover to a twin axle caravan and vice-versa, some makes of caravans may also have different chassis types so additional plates may be required.
What happens if I have a fault or a problem with the caravan mover?
We have a technical department who are willing to help no matter what your situation and can talk you through different procedures. Our no-quibble 3 or 5 Year guarantee assures you help is at hand.
Are caravan motor movers weather proofed?
Yes, it will withstand typical weather and road conditions. Although we do recommend basic maintenance every 6 months.
How safe is a Caravan Mover?
All of our caravan movers have a "soft start" and "soft stop" to limit additional stress on your caravan and provide you with maximum manoeuvrability. The electronics automatically switch off after a short time placing less strain on you caravan electrics and providing additional security. The handset has a special built in safety device, making to difficult to switch on accidentally.
I am disabled, will I be able to use the caravan mover easily?
If you are disabled then we would recommend the Powrtouch EVOLUTION Auto as it is totally electronic so can all be controlled at the touch of a button.
Can you recommend a cheap Caravan Mover?
Yes, the Leisurewize E-move EM203 is the cheapest motor mover we stock and represents a bargain for those looking for a simple manual engagement caravan mover yet still offering high quality.
Will a Caravan Mover fit my caravan?
All our movers are suitable for L-profile chassis with a minimum chassis thickness of 3mm. The standard installation kit only provides parts for installing the caravan mover within the measurements shown below: –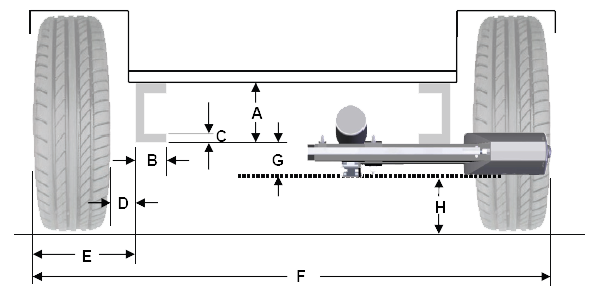 | | | | | |
| --- | --- | --- | --- | --- |
| Letter | Description | RK Mover | MC Comfort | MC Compact |
| A | Chassis depth | Min 185mm | Min 110mm | |
| B | Chassis width | 30-48mm | 30-48mm | 30-48mm |
| C | Chassis thickness | Min 3mm | Min 3mm | Min 3mm |
| D | Distance from inside edge of tyre to chassis | Min 55mm | Min 20mm | |
| E | Distance from outside edge of tyre to chassis | 270-380mm | 270-380mm | |
| F | Maximum width | 2500mm | 2500mm | 2500mm |
| G | Base of chassis to bottom of mover | 50mm | 90mm | 50mm |
| H | Recommended ground clearance | Min 80mm | Min 80mm | Min 80mm |
| I | Mover length | Min 370mm | Min 350mm | |
Will the Reich Move Control Compact fit my caravan?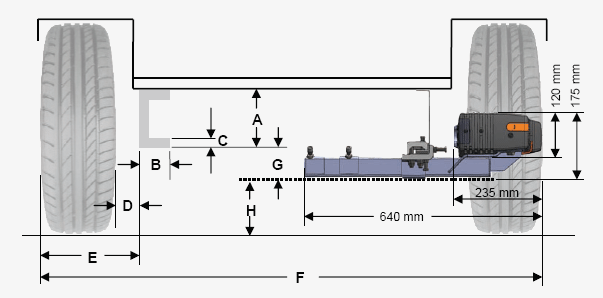 Letter
Dimension
Name
A
min. 50 mm
Frame size
B
30-48 mm
Frame width
C
min. 3 mm
Frame strength
D
min. 40 mm
Distance
frame / tire
E
min. 270 mm
max 420 mm
Overall dimension –
frame / tire
F
max. 2500
mm
Overall dimension –
tire / tire
G
ca. 55 mm
Distance – frame bottom
line / lowest point
H
80 / 120 mm
Minimum / Recommended
ground clearance
I
min. 380 mm
Total length
————
Lowest Point
More on Caravan Movers
Click here for more on caravan movers.